Skip Navigation
Website Accessibility
In January 2017, I started Chondro Guitars in the basement of my house. Since then, we have become THE premier destination in North America for the metal community. When I started this shop, I knew right away what kind of shop I wanted to be. A high-end Hard Rock/Heavy Metal shop with integrity, honesty, and no bullshit. I took my years of shitty experiences I've had dealing with other shops, figured out how to improve it, and molded that into my core of how I run my shop. I truly believe in treating people as I want to be treated, while offering some of the best guitars, amps and effects I can get my hands on. My small but dedicated staff also believes in this.
We are located in Waukesha, WI, just outside of Milwaukee. Our goal is to provide you with excellent service and great gear at a great price. While also treating you fairly on your trade-ins. Our primary focus is high custom guitars from Jackson, Charvel, ESP, Dean, and B.C. Rich. As well as amps from Mezzabarba,ENGL,Diezel, and more. We are always on the look out for killer brands to bring in here.
We pride ourselves on making you, the customer, our top priority, and will do everything we can to make your dream guitar or amp, yours.
Randall Pearson
- Owner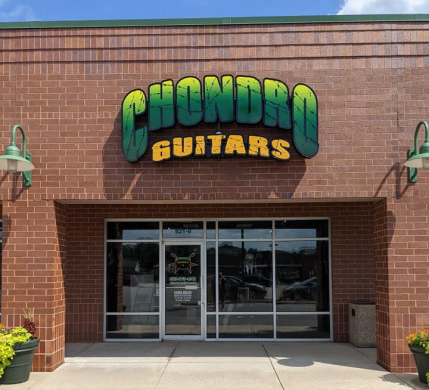 Join Chondro's Snake Pit!
Join our Facebook fan page for the latest updates, exclusive deals, and to check out new products before anyone else.
Join Now!